Version Changelog/Ver 1.16.2 Chapter 12: Destruction and Domination & Ebon Chimera
Ver 1.16.2 Chapter 12: Destruction and Domination & Ebon Chimera (February 20, 2020)
[
edit source
]
New Content
The prince and his allies advance on the capital—but the combined armies of Leonidas and Chelle bar the way.
Amidst the intrigue and violence, the prince witnesses firsthand the strength of his siblings' convictions—and will have to prove his own are stronger to secure victory!
A chimera possessed by an insatiable loathing has absorbed black mana, lending even greater power to the flames of hatred that char its body. Its maddening breath sucks the light from the living, leaving them a husk of their former selves that will eventually succumb to their own malice.
Required Might: 13,000
With its two powerful abilities, Overgrowth and Frenzy, this mighty foe grows more and more dangerous as the fight rages on! Players will also need to watch out for the poison and blindness afflictions.
Weapons
Abilities
Summon Showcase
Dragon Special (Feb 2020)
Events
During this event, drop rewards the player can obtain from the Imperial Onslaught (Shadow) will be doubled!
Event Duration: February 20, 2020 6:00 UTC to February 27, 2020 5:59 UTC
Main Campaign Half Stamina Event
During the event, stamina expended while playing the main campaign will be cut in half.
Event Duration: February 20, 2020 6:00 UTC to February 28, 2020 5:59 UTC
Catch-Up Campaign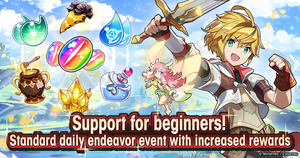 Limited-time endeavors where the player can get wyrmscales, insignias, and other rewards will be available for the duration of the event.
Even beginners can easily complete these endeavors by progressing the main campaign or clearing recurring events.
Event Duration: February 20, 2020 6:00 UTC to February 28, 2020 5:59 UTC
Fixed Issues
The following issues were fixed with the data update applied around February 20, 2020 6:00 UTC.

Volk sometimes behaved differently than intended at certain times in Volk's Wrath: Expert.
Confirmed an issue occuring between February 12, 2020 10:30 UTC and February 13, 2020 2:00 UTC where the "Clear The Mercurial Gauntlet" endeavors were not marked as cleared despite clearing the corresponding Mercurial Gauntlet quests.
Version Changelog
2018
2019

Ver 1.4.0

 •  Ver 1.5.1 (

A

,

B

,

C

)  •  Ver 1.6.1 (

A

,

B

,

C

,

D

)  •  Ver 1.7.1 (

A

,

B

)  •  Ver 1.8.0 (

A

,

B

,

C

,

D

,

E

,

F

)  •  Ver 1.9.0 (

A

,

B

)  •  Ver 1.9.1 (

A

,

B

,

C

,

D

,

E

)  •  Ver 1.10.0 (

A

,

B

)  •  Ver 1.10.1 (

A

,

B

,

C

)  •  Ver 1.11.0 (

A

,

B

,

C

,

D

)  •  Ver 1.12.0 (

A

,

B

,

C

,

D

,

E

,

F

,

G

)  •  Ver 1.13.0 (

A

,

B

)  •  Ver 1.13.1 (

A

,

B

,

C

)  •  Ver 1.13.2 (

A

,

B

)  •  Ver 1.14.0 (

A

,

B

,

C

,

D

,

E

)  •  Ver 1.15.1 (

A

,

B

,

C

,

D

,

E

,

F

)

2020

Ver 1.16.1 (

A

,

B

,

C

)  •  Ver 1.16.2 (

A

,

B

,

C

)  •  Ver 1.17.0 (

A

,

B

,

C

,

D

,

E

)  • 

Ver 1.18.0

 • 

Ver 1.18.1

 •  Ver 1.18.2 (

A

,

B

,

C

,

D

,

E

,

F

,

G

)  •  Ver 1.19.0 (

A

,

B

,

C

,

D

)  •  Ver 1.19.1 (

A

,

B

,

C

)  •  Ver 1.20.0 (

A

,

B

,

C

,

D

,

E

,

F

,

G

,

H

)  •  Ver 1.21.0 (

A

,

B

,

C

,

D

)  •  Ver 1.21.1 (

A

,

B

,

C

,

D

,

E

)  •  Ver 1.22.1 (

A

,

B

,

C

,

D

,

E

,

F

,

G

)  •  Ver 1.23.0 (

A

,

B

,

C

)  •  Ver 1.23.1 (

A

,

B

,

C

)  •  Ver 2.0.0 (

A

,

B

,

C

,

D

,

E

)  •  Ver 2.0.1 (

A

,

B

,

C

,

D

)  •  Ver 2.1.0 (

A

,

B

,

C

,

D

,

E

,

F

,

G

,

H

,

I

)  •  Ver 2.2.0 (

A

,

B

,

C

,

D

,

E

,

F

,

G

,

H

)  •  Ver 2.3.0 (

A

,

B

,

C

,

D

,

E

,

F

,

G

,

H

)