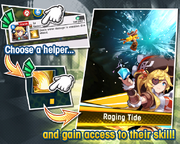 Helpers are special adventurers that can be used during solo questing, providing players with up to 3 uses of the adventurer's first skill under most cases, and any
Shapeshift Prep abilities they carry. Team-wide
Life Shield prep abilities, such as on
Peony and
Meene, are also applied.
Helpers are selected for a single quest by choosing them in the menu at the start of a quest. The adventurer's skill can then be used at any time during the quest by tapping on its icon at the bottom of the screen. Note that selecting a helper will replace the lead adventurer's second equipped Shared Skill.
This skill is available for use a single time if a player is not friends with the other player that provided the helper, and three times if they are friends.
Setting Up a Helper
[
]
In the Home Menu, selecting 'More' > 'Friends' > 'Helper Settings' will open up another interface that allows players to select one adventurer and a full loadout of equipment. Doing so will make that character available to other players to use during solo quests.
Using a Helper Skill
[
]
Helper skills are available immediately upon starting a quest. To use a helper skill, tap on the helper skill's icon at the bottom-right or left corner.
Helper skills are subject to a 10-second cooldown after they are used, and if a helper receives unavoidable damage, the original adventurer will receive damage if they are not shapeshifted. Dragons will receive loss of dragon time if the helper receives damage.
It is possible to not use a helper in a solo quest; in this case, access to a second shared skill will be available to the leader unit.
Using a helper skill will cause the combo counter to reset, regardless of Combo Time Up abilities.
Differences in Helper Skills
[
]
The Strength the helper skill uses depends on the Strength of the helper versus the Strength of the controlled adventurer.
If the controlled adventurer has a higher Strength stat than the helper, the helper's Strength stat is used.
If the controlled adventurer has a lower Strength stat than the helper, a value in between the controlled adventurer's and the helper's is used instead.
All other boosts are based on the helper's alone. Abilities with conditions outside of weapon classes or conditions that require the adventurer to have a HP greater than or equal to a set value will not function.
For the purposes of adventurer, dragon, and wyrmprint abilities, a helper is considered at full HP.
Hence, it is important to equip a helper appropriately depending on the type of helper skill they have.
Helpers with Unusual Helper Skills
[
]
Some adventurers have their helper skills behave differently than expected.