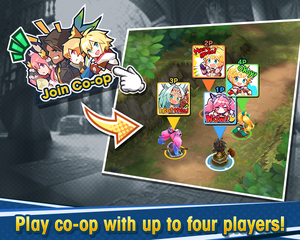 Co-op is a multiplayer game mode in Dragalia Lost where players can create rooms and invite up to three other players to play alongside. Co-op is unlocked after clearing the Main Campaign Ch. 2/2-1: The Sylvan Archer.
Creating a Room
[
]
Players may create a co-op room by choosing to create a co-op room within a quest's co-op options.
Choosing Create a Room will create a standard conditional room, allowing the player to set room conditions for other players to join.
Choosing Create a Private or Local Room will create either a private or local room.

A private room will have a Room ID, which can then be shared with others to join the room. Private rooms may also be opened to public with a toggle.
A local room will be accessible to other players that are physically nearby, determined using the location feature of your device.

Choosing Create an Alliance Room will create an alliance room, accessible to all players that are within your currently joined alliance.

Like private rooms, alliance rooms may be joined via a code, and also be opened to public with a toggle.
Finding a Room
[
]
From the Quests main menu, players can select the Join Co-op button to go into co-op, select the quest, and join the available co-op rooms.
Players may also join a co-op room from within a quest's co-op options, with either Quick Play or Find a Room.
Quick Play will let the player join the first available co-op room whose the player's leader or entire team meets the conditions of.
Find a Room will display all the available rooms for the selected quest in a list, with bright rooms being rooms where the leader or team meets the conditions of.
Co-op Social Rewards
[
]
Upon successful completion of a co-op quest, if that co-op quest was played with another player for the first time, then a reward of 50

Wyrmite will be obtained. This reward can be received for the first 50 people met for a total of 2,500

Wyrmite.
Co-op social rewards may be reset periodically.
Co-op Play Restrictions
[
]
A player can be barred from participating in co-op for 60 minutes if:
10 or more quests are played within a 15-minute time period
Giving up a quest too frequently as a host during co-op gameplay
Dropping connection too frequently as a host during co-op gameplay
They are caught 3 times being inactive during co-op by the system and do not dismiss the penalty message
Co-op Play Room Conditions
[
]
As of version 1.6.1, players are now able to create room conditions. Players can allow or restrict certain elements, weapon types, and might from joining. The maximum might a player can set is their team leader's might, plus 500, rounded down to the nearest hundred.
For example: If your team leader might is 4931, the maximum might that can be set is 5400.